Serving a Host of Industries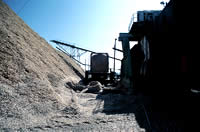 KAM Industrial Supply Ltd. is pleased to serve a wide range of industries. Centrally located in Thunder Bay, Ontario, we supply the pulp and paper industry, mining companies, government agencies, tradesmen, general contractors, sub-contractors and residential home builders from coast to coast.
At KAM Industrial we are well-known and take pride in providing high quality and reliable concrete and masonry products and equipment to companies within the construction, mining and transportation industries, assisting them in completing their projects professionally and easily. Having the right products and tools makes all the difference!
View our Products page to browse our extensive line of products available or visit our location and speak to one of our Technicians to learn what products are right for you. 

KAM Industrial Supply Ltd.
1124 Waterford Street - Thunder Bay, Ontario  P7B 5R1
Ph (807) 623.3167 | Toll Free (866) 426.1290 | Fax (807) 6233168
E-mail kamindustrial%23com|info