Get the Job Done Right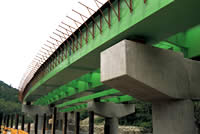 KAM Industrial Supply distributes products to meet your concrete and masonry, structural restoration, new construction and waterproofing needs. Working closely with home builders, contractors, and sub-contractors, KAM assists you from the planning stage of your project to the end result. Our products offer exceptional quality and reliability.
Over the years, KAM has continued to grow providing many products including:
| | |
| --- | --- |
| Concrete Repair and Restoration Materials | Form Hardware |
| Masonry Supplies | Chemical Resistant Coatings and Linings |
| Insulation | Weeping Tile |
| Commercial Flat Top Roofing Supplies | Safety Supplies |
| Fall Arrest Systems | Diamond Blade and Abrasive Products |
| Waterproofing Supplies | Construction Equipment |
| Fire Stop Materials | HVAC Duct Insulation, Adhesives, and Fasteners |
| Concrete and Masonry Fasteners |   |

Specialized Products
To view our full line of masonry and concrete products, please select a category below:
Cement
Concrete Forming
Insulation
Waterproofing
Safety Products
Miscellaneous

Need More Information?
Please do not hesitate to contact KAM Industrial Supply today with your questions. Our staff would be pleased to assist you in any way they can.

KAM Industrial Supply Ltd.
1124 Waterford Street - Thunder Bay, Ontario  P7B 5R1
Ph (807) 623.3167 | Toll Free (866) 426.1290 | Fax (807) 6233168
E-mail info@kamindustrial.com